Whitney Hosein (Dec-Jan). USA.
Ashtanga, Vinyasa, Meditation
Breath is something that has eluded me for much of my life. I was born with chronic asthma, and hospitalized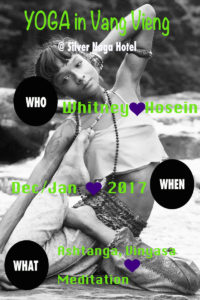 for attacks before even being able to speak properly. Growing up on the tropical island of Trinidad may seem like paradise to those seeking sun and surf, but my afflictions kept me indoors and sedentary most of the time, not to mention miserable and restless, until I moved to the US at the age of 11. I discovered yoga through a relative who sometimes received private courses from a gentle yoga instructor. Although the infrequent practice did little to relieve me of my teenage angst, what I did find was deeper sense of control of levelheadedness through learning to connect more deeply with my body. However, medical complications and an invasive surgery rendered me unable to do any physical activity for many years, and I resigned myself to academia thinking that I would never be capable of fully attaining the mind body connection. It was in my last couple years of college, a time when many are more concerned with losing the breath than finding it, that I began to practice again. This time, the intent was to strengthen my focus and relieve me of the physical restlessness that was a side effect of long hours studying and my asthma medication. Upon graduating, when the goal is usually that of full time jobs and careers, I turned fully to yoga. I withdrew my medical school enrollment and began to practice everyday, sometimes twice a day. After about 6 months of regular practice, I was able to quit my daily steroidal asthmatic medication, admittedly with great difficulty, and was even able to stop taking birth control which I had been prescribed for at least 8 years. The reason I stopped these medications and withdrew from school is because yoga has taught me that everything I need is within .The control that accompanies the knowledge of will control is the first step in the greatest sense of freedom I have ever known and it is for this reason that I aim to share my practice by means of instruction. Our generation has man so means of communication available to us, and if you're my Facebook friend or you follow me on Instagram, you know that I post photos and videos of asanas regularly in order to demonstrate that abilities of which we are all capable. I have demonstrated yoga at women's festivals, in my performances as a burlesque artist, and at the USA Yoga Championships for the past 3 years, which is as long as I've been practicing regularly. It is not due to natural ability nor any previous endeavours (such as dance or gymnastics), as many people think, but to intensity and tenacity that is augmented by the yogic practice. My inner flame is most ignited when I am able to remind people of their limitless potential. We can all burn through the illusions of perceptual reality to see what is consistent within and without, and by becoming a certified Ashtanga instructor, I seek to inspire and spread the boundlessness that is just within reach to every being.