Frequently Asked Questions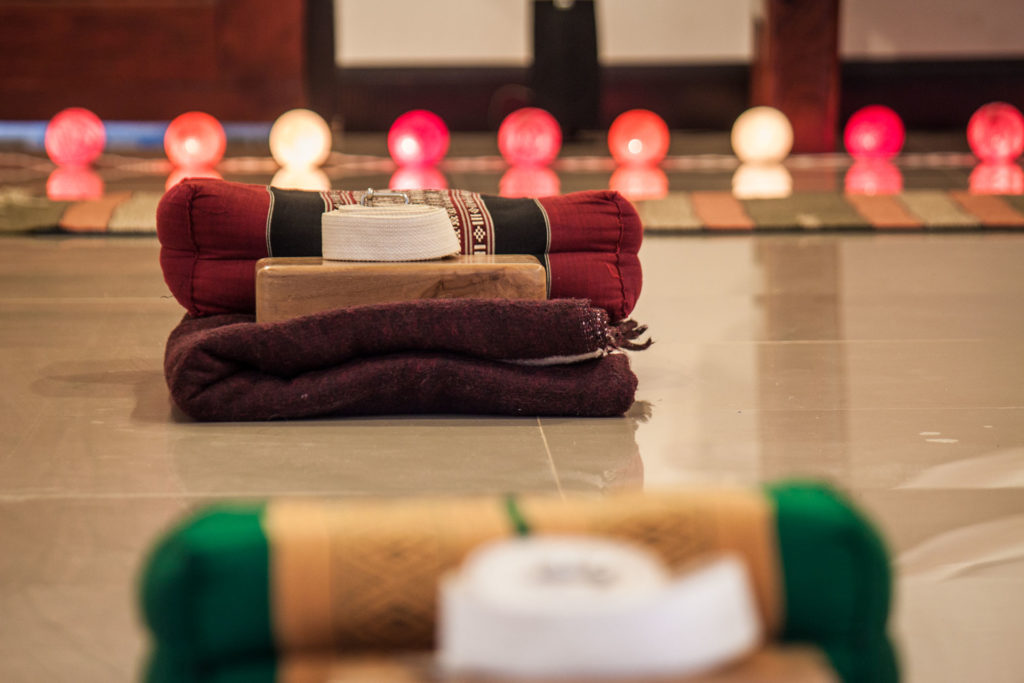 Welcome! Below is information for those who are new to yoga and/or new to Yoga in Vang Vieng. Any other questions? Get in touch with us through our contact form, Facebook or Instagram!
Do I need to book my spot in advance?
 
All of our classes are drop-in, so there is no need to reserve a spot: just purchase a ticket from the reception desk at the Silver Naga Hotel! We recommend that you arrive on time for class (ideally 5-10 minutes before), so that classes can begin on time.
How much does it cost to join a class?
Our pricing is as follows (in USD $):
Drop-in class          $10
2 classes                  $15*
5 classes                  $35*
10 classes                $60*
*Prices valid per individual person. Must be used within one month after purchase.
Do I need to do anything to prepare for class?
Wear comfortable clothes that you can move around in and avoid eating a big meal right before class. Let the teacher know if you have any injuries, chronic health issues or are pregnant and he or she will provide guidance on how to manage those issues during your practice. Please switch off your mobile phone during class, or set it to silent mode.
Can I come if I'm pregnant?
You can certainly practice yoga if you're pregnant and our teachers can provide guidance on how to modify poses. However, we strongly recommend that pregnant women get clearance from their healthcare professional first before participating in a yoga class.
Do you teach classes all year round?
Our yoga classes are held twice a day, all year round. For more information on our class schedule, please click here.
What if I've never done yoga before? Can I still join?
Our classes are suitable for all levels of yoga practitioners! We welcome everyone to our classes and our teachers will provide plenty of guidance to ensure that your experience is a safe and positive one.
What if I'm not flexible?
Yoga is not about flexibility and being able to touch your toes. Everyone is welcome to our classes whether you are a complete beginner to yoga or someone who has practiced yoga for years.
What styles of yoga classes do you offer?
We offer a variety of classes at Yoga in Vang Vieng. To see our weekly schedule, visit this page.
Hatha Yoga
Hatha Yoga classes are perfect for beginners and advanced students alike. We focus on alignment and breath during Asana (yoga pose) practice while connecting the mind and the body. Aspiring Yogis will get a chance to receive detailed information on each position to insure their safety. And those who practice for a while will have an opportunity to revise the basics and to receive hands-on adjustments.
Therapeutic
Each class we focus on a different system of the body for neutralizing and cleansing – nervous system, digestive, cardiovascular, etc. The class involves gentle movement with guided alignment and focus on body awareness. Perfect for all levels. You will leave feeling like you got a good reboot of your body!
Kundalini Yoga
An uplifting blend of spiritual and physical practices, Kundalini Yoga incorporates movement, dynamic breathing techniques, meditation, mantra to build physical vitality and increase consciousness.
Kundalini Meditation
Awaken your primal energy through Kundalini meditation! Experience deep meditation, enlightenment, and bliss! Connect with your breath, be present to the life force in your body, re-establish your own rhythm, talk to your higher self, and be in love with your unique life.
Ashtanga Intro
This dynamic, physically demanding practice synchronizes breath and movement to produce an internal heat designed to purify the body. Ashtanga yoga, with its many vinyasas, is great for building core strength and toning the body. Prepare to sweat as you briskly move through a modified set sequence for beginners and experts alike!
Yin Yoga
Deep stretches and a peaceful state of mind are guaranteed. Long holdings of the asanas with props provide a perfect opportunity to explore body and mind. The class is beneficial for advanced practitioners and easily accessible for beginners.
Vinyasa Flow
Flow through class and build heat in the body! Experience a dynamic sequence of poses coordinated with breath to strengthen the joints/muscles, increase flexibility, and open the mind. Challenge yourself and see how far you can take your practice!
Restorative Yoga
Center your breath and body – align the physical and mental by practicing stillness or gentle movement for extended periods of time. The props are used to assist in helping you to hold poses and settle into relaxation. Come to relax and rest deeply and completely.
Yin Yang
A combination of challenging flow and deep relaxation will help you to achieve balance in body, mind and spirit.
Do I need to bring my own mat?
Our studio is well-equipped with brand new Manduka mats, blocks, straps, bolsters and blankets. If you'd like to bring your own mat, you are more than welcome to!