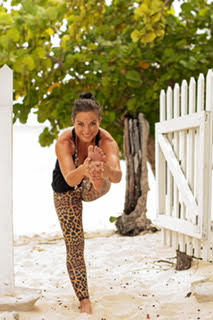 I discovered my passion for Yoga after relocating from London to The Cayman Islands in 2012. I was amazed at how the practice gave me a deep sense of spaciousness, and left me feeling stronger and more balanced both on and off the mat!
I began to deepen my studies and completed a 200 hour RYT in Hatha yoga in 2014 and a Yin yoga and mindfulness meditation 80 hour RYT, studying with Sarah Powers in May 2016.
I love hot, power and flow yoga but now balance this with more introspective styles such as yin and restorative yoga. I believe that all yoga offers an ever evolving journey of self-discovery and my mission is to offer inclusive, welcoming and safe classes for all students to be able to explore their own yoga path and feel connected in mind, body and spirit.
My classes are down to earth, playful, and thoughtfully sequenced, and are intended to leave students feeling nourished, grounded, fearless and uplifted!
Connect with Emma on Instagram @ emmat_yoga and Yoga trail: Emma Twydell.